Lightning Photography Home
Spectacular lightning pictures and thunderstorm photos by Australian storm chaser and weather photographer Michael Bath. Like the Northern Rivers Severe Weather Group Facebook page for all the very latest storm chasing news and lightning photos.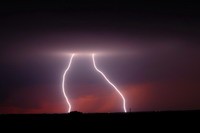 October 2012: Since the previous update I had the opportunity to storm chase in Tornado Alley USA. During the three week trip with two of my local storm chase mates, there were several opportunities for lightning photography - with some really weird "smooth channel lightning" near a Kansas tornadic supercell. In 25 years of lightning photography this was the first time I've seen this type of lightning. Check Gallery 66 for the set.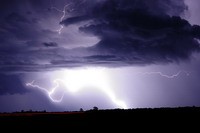 Locally, spring is off to a slow start with only a few lightning opportunities. Hopefully the rest of the season will be active!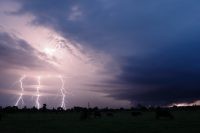 April 2012: The 2011-2012 storm season was patchy across Northeast NSW with very few big thunderstorm days (i.e. massive hail or destructive events), but still ended up quite a long season with photogenic storms from August through to April. I've added the rest of the photos from spring, summer and the one decent event so far from Autumn. The stand out event was 13 November so make sure you check out those.
October 2011: It's been a long time between updates yet again... Since the last time I posted new photos I've upgraded to a Nikon D90 camera, been chasing in Tornado Alley USA and endured an extended period of very little photogenic storm activity. 2011 has seen a turn around with fairly regular storm events through the cooler months and now into spring.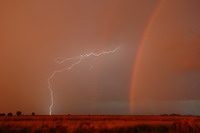 Here's a few samples but check out the new galleries and favourites.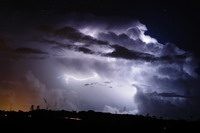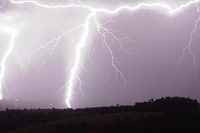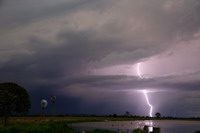 January 2010: The whole of 2009 had very few opportunities for storm chasing, let alone lightning photography. January 2010 started poorly but a few decent events thankfully occurred. I really enjoy daytime, sunset or dusk colours with lightning. Even though there have not been many storms they have provided some great timing for backgrounds other than a night sky of black.
Photographs are available for commercial use - please refer to the copyright page for information.
Purchase a framed or unframed print of your favourite lightning photo. They make beautiful gifts! More information is available here.
2015 Calendars

Lightning and severe thunderstorm calendars are available. Click here for more information.
Severe Thunderstorm, Tropical Cyclone, Severe Weather and Bushfire Warnings to your email and phone. Australians: Register Now !


Browse over 3,000 photographs of lightning sorted by date, or have a quick look through the favourites galleries.


A hard cover book containing over 100 lightning photos is available for purchase.


Learn how to take your own lightning photos with these detailed instructions.


Some background information about storm chaser Michael Bath.

Please check the copyright notice before copying anything.
Looking for a Lightning Activated Camera Shutter Trigger to help with your own photography? Try a Ubertronix Strike Finder trigger
In a rush and want a quick fix of lightning? Start the YouTube video below....


CamsFormer : Next Generation high speed camera trigger, built in sensors, wireless camera control, Remote Live View monitor, and Pan/Tilt/Zoom


If you are a professional photographer, or you just own camera, check out CamsFormer, the next generation in camera accessories. Its a big hit on KickStarter already generating over 700% of its funding goal.

https://www.kickstarter.com/projects/969220052/camsformer-high-speed-triggeringwireless-camera-co
CamsFormer is like the swiss army knife of camera accessories, combining everything into one device that is controlled wirelessly from your smart phone, tablet, or computer. By simply plugging it into your cameras USB port, it will give you the following features: Remote real-time live view monitor of your camera viewfinder seen on your phone or tablet, remotely change camera settings from your smart phone like ISO, WB, Shutter speed, Aperture, remotely focus the camera from the app, take pictures, video recording/monitoring remotely, upload pictures from camera wirelessly to your iPad, pan/tilt/zoom your camera from the app, 4 channel high speed triggering with built in sensors for light, laser, lightning, sound, and motion, wild camera motion trigger trap, HDR, Timelapse, bulb ramping, and the most advanced feature we have ever seen in a camera accessory is its scripting language which lets you control everything by writing your own scripts, its really a breakthrough in camera accessories.